Since RepairClinic.com's founding in 1999, 4,500,000+ people have saved $500 million in repairs costs by ordering parts from us and using our free troubleshooting and DIY how-to repair help to fix stuff on their own. Inspired?
Every day, we hear from dozens of people who thank us for making fixing things easy. They share their successful DIY repair and money-saving stories. It makes us smile and fuels our determination to continue and improve upon what we're doing to help people.
Here are a few recent notes we particularly enjoyed:
"Taking the family out to dinner! I just repaired my stove with a part from you. I saved $320 over the repairman's estimate. I never would have tried it without your return policy. You rock!" – Jeffrey Jarrad, Vermont
"Wow! This was unbelievably easy especially for an old person like me who is used to locating a repair person, scheduling an appointment, waiting for the date, ordering the part, waiting for it to arrive, scheduling another date for the repair person to deliver it … ugh! Thank you, RepairClinic!"
"Recently had door hinge springs break on our LG front load washer. Just to look at the unit, most places wanted to charge at least $89 before they would supply a reliable quote for parts and labor. Best guestimates were from $225 to $250+ to repair. Was able to order the part needed for less than $50 on RepairClinic.com, and using the helpful repair video on your site, was able to change out the broken part in less than an hour. New part fit perfectly, washer now operates as good as new – thanks to your help and outstanding service." – Pat and Lynn Borden (Pat shared the photos below)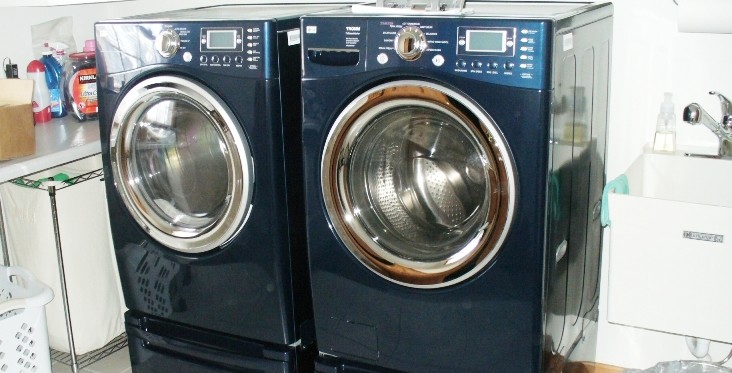 ***
Repair Clinic is a great company to do business with. They almost always have the parts I need in stock, and, if not, the parts are generally available in a short period. Plus, there are no extra shipping charges for backordered item, and are shipped as soon as available via the same method you originally paid for. RC has the best, most extensive parts selection for appliances, lawn and garden equipment, small engines, HVAC units, etc that I've found anywhere. Their service is fantastic, their return policy is second to none, and their prices cannot be beat for OEM parts. They also have many pointers, tips, and instructional videos for parts installations/repairs along with the parts listings. A top flight company that I highly recommend!
***
"I love RepairClinic.com!! I'm a single mom and when my dryer quit working, I sat down and cried. I had no idea how I could afford to get it fixed. My life can't afford these kind of "life happens" moments. So I did what most people do; I Googled it. The results were "RepairClinic" and some other place. I found the most likely parts and ordered them from that other place because they said they could get the parts to me sooner. NOT a good idea!! I used the RepairClinic videos to take the dryer apart, repair with the two-days-late parts and put it all back together again…I CAN fix anything with the help of RepairClinic.com."
***
"Repair clinic has helped me fix most of my kitchen. Without them, I'd starve! :)"
***
"I am a single-mother and VERY INDEPENDENT! I fix EVERYTHING myself! I have been a faithful Repairclinic.com customer for YEARS!!! I found them by accident about 10 years or more ago!!! I have fixed a dryer, 2 washers, 2 dishwashers (one of them twice), a refrigerator, and a couple other things with parts and HELP from Repairclinic.com. I have told SEVERAL people about the website, how much money you can save by doing-it-yourself, and how easy it is to use and find the exact part you need. I am a HUGE fan and will be a customer for as long as I am able to bend and fix things!!! LUV U REPAIRCLINIC.COM!"
***
"I cannot say enough about how Repair Clinic has helped me for the past few years. No matter what the equipment or model, Repair Clinic has the parts and the assistance. Repair Clinic is a God send, and I continually recommend RC to friends and colleagues."
***
"Without RepairClinic, I don't think the life of my washing machine could be extended. I would be spending hundreds of dollars looking for a new machine because of a small part (that the manufacturer doesn't have)… a part that costs the price of slice of pizza. Can you believe that?"
***
"Repair clinic literally saved our family's spring vacation. We had planned to go to Disneyland during my kids spring break but our dryer just broke down and would not heat. We just recently spent a lot of money to repair our washer and knew that repairs for the dryer could be significant, not to mention having to buy a new one would be even more costly. So I decided to try to fix it my self with no previous experience. After watching your video tutorials I had the confidence to give it a shot. I was able to disassemble the machine diagnose the problem and order the necessary parts from RepairClinic.com The parts arrived in two days and I had the dryer back in operation on the same day. I am sure that the money we saved paid for our Disneyland tickets.Thank you, RepairClinic.com!"
***
"I love RepairClinic.com!!! I am a small landlord and I have literally saved myself $1000's of dollars over the past few years by logging on to RepairClinic.com and fixing my own appliances. Its so clear, so logical, so organized, I am usually able to troubleshoot the problem in a minute. Oh and look there's a link right next to the answer that brings me to a clear concise video on how to fix it! And another link if you need a part! (order fulfillment very fast I had my part on the second day after I ordered it.) I use repairclinic.com on the fly on my phone all the time too. I get so much satisfaction making simple repairs on my own appliances. Thank you RepairClinic.com! "
***
"RepairClinic is AMAZING !! I am sooo happy I found you ! After being married for 23 yrs to a Mr. Fix-it, who wouldn't show me how to do anything because it "took too long, and would be faster to fix it than explain how to do it" I found myself a single mom of an 11 yr old girl. My 20+ yr old Speed Queen dryer quit on me, and I Googled repair advice. Having low confidence in my own ability to fix it, I contracted Sears repair to give me an estimate. I was quoted over $300. Not wanting to put that much into my 20+ yr old dryer, I went back to RepairClinic. I ordered the parts they suggested as most likely to be the problem, and my 11 yr old and I put them in tonight ! For $18.30 the dryer I love is fixed !!!! The video was excellent !! I'm sold on y'all, and will recommend you to everyone who will listen ! ♥ Thanks so much !!"
***
"Best helpful website ever!! Just fixed my dryer for $8 instead of paying a ton of money to have a repair man come out…thanks a ton, newest user."
***
Thank you, Repair Clinic, for helping me fix my stove top! I finally have four working burners again! I now know how to test my surface element coils for continuity (using the multi-meter I got when you helped me repair my dryer), replace the terminal block, and replace the surface element switch. You showed me on your website and YouTube videos the most likely problems and how to diagnose them. Issue #1, a burned out coil, yep. I was pretty sure of that one before I even tested it. But the new one still didn't work. Issue #2, no way to test the terminal block. Just have to replace it and see if it fixes the problem. No change. I uninstalled it and, thanks to your return policy, will be able to send it back to you. Issue #3, the surface element switch, yep, burned out. Not a difficult fix, and now everyone's favorite burner is back in service, you know, the big one in the front! Thanks for not only selling the parts at a good price, but for providing such detailed and helpful instructions. Extra bonus: your website is extremely user-friendly!
***
I am a 53 yr. old female, married with three teenagers. My husband works a (more than) full-time job so I try to do as much home maintenance and repair as possible. I am addicted to repairclinic.com. I just repaired my 25 yr. old Whirlpool gas dryer. I always have my laptop nearby for the assembly and disassembly videos so I queried lubricating the motor. Voila! The answer was there and we performed maintenance accordingly and "magic". The dryer works! I LOVE RepairClinic.com! Silly, but true! – A repairclinic.com geek…
***
"Getting to be an old fart – don't do this internet shopping thing but I'm really impressed with how easy it was, even had a video showing how to do my needed repair. Thank you!"
***
"Thank you so much for making the bake element part so easily available to me. My GE electric range came with the house which I purchased nearly fifty years ago! I have no idea just how old the range really is; but, since it is color coordinated with the refrigerator and dishwasher (avocado, if you please), I was facing quite a pricey outlay for replacement of three appliances. Now, thanks to you, for $20.88, I'm good for another 50 years. On second thought, that might be a reach. I'm 81 years old. Still, the part is supposed to extend the range's life- not mine! Thanks again, and I sing your praises to my acquaintances."
***
"Love your videos. Love your email. I am a 75 year old woman and these really help me not only to fix what I can and also not look like a fool when a repair man comes. I have ordered parts for my friends' refrigerator and fixed it. He is 84 but doesn't not which end of a hammer to use. THANKS AGAIN."
***
"I am a 74 year old, retired engineer. I do most of our home household repairs. Repair Clinic is a great company! The customer service reps are so helpful. This last order had a part that was the described with wrong part number on your website. After receipt, it did not work. Today, with the help of a very smart lady in your customer service dept. she investigated my problem and in fact I had been shipped the wrong part even though it looked the same as my old one. Then she told me that RepairClinic would have Fed-Ex pick up the part I received at their expense and credit my account. To me this is the very best of service and shows me that RepairClinic really cares about their customers. Thank you and your staff so much."
***
"Only company to help me find a carburetor for an old briggs/strat lawn mower. Put it on myself (over 60 female) and after the first 3 pulls, it started right up. I am happy. My lawn mower is happy. My grass is happy. Delivery was fast…within 3 days. Yes, I would shop again for all my motor needs with RepairClinic."
***
WHAT A WONDERFUL EXPERIENCE! I'm a do it yourselfer and was trying to fix my fridge. The video online showed me exactly what to do and made me feel comfortable enough to order the part. I ordered the part with regular shipping on a Friday at 3pm. The part was sitting on my driveway at 11am the next morning. Not exactly sure how that little miracle happened, but I was very pleased.
***
"What you're doing – helping people like this, it's very empowering."
***
"I wish more companies were as great as you. If I were single, I'd marry RepairClinic."
You can read additional stories via Google Trusted Stores.
Kudos? DIY success story to share?
We'd love to hear about it.
Public Relations Manager
734-495-3079
PRManager [at] repairclinic.com
Inspired? Share this.
***
Love saving money and DIY tips? Yep, we do, too.
Want tips and discounts delivered directly to your inbox? Sign up for our free VIP email list.
****
Need help finding the right part? We're here for you.
Call us at 1-800-269-2609 or click on the Live Chat button at the top of RepairClinic.com. We're here 7 a.m. to midnight ET, every day.
***
About RepairClinic.com
Since its founding in 1999, RepairClinic.com has helped three million do-it-yourselfers save 500+ million dollars in repair costs by successfully repairing appliances, lawn equipment, power tools and heating & cooling equipment on their own.
RepairClinic's free online repair help system empowers do-it-yourselfers to fix common problems associated with major home appliances, lawn equipment, power tools, water heaters, floor care, and more. DIYers can enter a model number to choose from a list of common symptoms for that particular model, troubleshoot and watch expertly-produced videos to learn the most likely causes and conditions and purchase the correct, recommended part.
RepairClinic.com stocks more than three million parts and accessories for more than 200 brands of furnaces, air conditioners, air handlers, heat pumps, washing machines, dryers, dishwashers, vacuum cleaners, lawn mowers, snowblowers, leaf blowers, edgers, power tools and many other products.
Since 1999, the company has served more than three million customers including homeowners, first-time and beginner DIYers, advanced DIYers, appliance repair professionals, small engine repair shops and landscaping and lawn care business owners. RepairClinic orders are backed by a 365 Days. Period.™ return policy that enables customers to return any part. Of the more than one million parts available on the website, 95 percent of parts ordered are in stock and guaranteed to ship the same business day. RepairClinic ships within the United States and Canada.